The 20+ Best WordPress Themes for Podcasters in 2022
Podcasts have become a source of convenient entertainment that's growing in popularity, but their growth can become limited on platforms like PodBean and BuzzSprout. By building a website and using a WordPress podcast theme, you can garner more downloads and listeners.
If you're a host or producer, chances are you're busy managing your podcast — and building your own WordPress website may sound like a daunting task. However, creating your site can be quite simple with the right WordPress podcasting theme that allows you to share your episodes, seasons, host bios, and any other content you want to provide your visitors and fans.
Here are the top WordPress themes for podcasters on the market today.
We've curated this list of our favorite podcasting themes to help you share your content on your site and make lasting connections with your fans. To determine which theme best suits your needs, review these 15 options, their unique features, and our key takeaways. Afterward, check out the WordPress Theme Directory if you'd like to explore more podcasting themes.
Viseo is a podcast theme with a "latest show" section for your site pages so your fans can quickly locate and listen to your newest content. You can also easily upload and add high-quality videos to the theme's Locally Hosted Video Player feature. Customizing your site pages and sections requires no coding knowledge due to the theme's drag and drop builder.
Key Takeaways:
Visitors can browse the "Latest show" section for new content
Share high-quality video content with the locally hosted video player feature
Customize your site with the built-in drag-and-drop page builder
Podcaster is specifically made for broadcasting and managing podcasts — it has an unlimited number of podcast episode archive pages so you can maintain your shows and seasons over long periods of time. The theme's homepage contains an audio and video player feature that allows visitors to experience your latest content the moment they enter your site. There are also a variety of color palettes to customize your site with to match your branding.
Key Takeaways:
Add unlimited podcast episode archive pages
Utilize an audio and video player feature on the site's homepage
Access a variety of color palettes to customize pages
Tusant is compatible with all major podcast plugins to make managing and designing your podcast's site as straightforward as possible with increased functionality based on your specific needs. The theme is compatible with the Elementor plugin which allows you to edit and update your site pages and review the changes in real-time prior to publishing them.
Key Takeaways:
Integrate your favorite major podcast plugins
Design your pages with the Elemntor plugin
Display content in multiple layouts
Are you already hosting your podcast on a platform like Spotify or Soundcloud? Then Livecast is a great podcast theme to build your WordPress site with. This theme is compatible with the top music and podcasting platforms which means you don't have to host your episodes in more than one place. Livecast also comes with a built-in drag & drop and live editor so you can build and modify your site quickly.
Key Takeaways:
Compatible with the most popular podcasting and music platforms
Drag & drop editor makes it easy to build each page on your website
Edit your site in real-time using the live edit feature
Audonic supports several commonly-used audio players so importing your podcasts is a hassle-free process. The theme offers dark and light-colored layouts and audio players to help you achieve your desired look. Your visitors can also check out your site while on the go since the theme is mobile-friendly.
Key Takeaways:
Upload several audio players to showcase your podcasts
Customize dark and light layout and audio player designs
Experience better responsiveness with the mobile-friendly layouts
Life Coach is a podcast theme with an ecommerce store where you can sell your merchandise — the theme has WooCommerce integration to make managing your store simple. It includes an events calendar feature where you can highlight the dates for your latest episode releases, live shows, and more. Life Coach also offers MP3 (coding format for digital audio) support so you can easily import and manage your podcasts.
Key Takeaways:
Integrate your podcast site with WooCommerce
Notify visitors of upcoming events with the calendar feature
Leverage MP3 support for your audio files
Vice gives you the ability to incorporate video backgrounds on your web pages to create an interactive and fun experience for your visitors. The theme's responsive design automatically changes your site's format to fit the screen it's being viewed on, whether that's desktop, mobile, or tablet. Vice also has pre-made podcast page templates with players that support Soundcloud, MP3, and Mixcloud audio so you can import and share your podcast in a matter of seconds without having to change its format.
Key Takeaways:
Incorporate video backgrounds on site pages
Change your site's format depending on the device it's being viewed on
Make changes quickly with podcast page templates that support audio players
Promenade's homepage offers two types of formats: a static web page where the same content remains in one place unless you manually change it and a dynamic web page in which your latest content is moved to the top of the page so your visitors automatically see your latest posts. The theme has grid layouts for your audio and videos to keep your content organized.
Key Takeaways:
Format your pages with two homepage format options — static or dynamic
Organize your audio and video using the grid layouts
Arrange your site with custom navigation and menus
Podcaster is a multimedia WordPress theme that allows you to create and manage your own podcast website. This theme supports audio embeds from Apple Podcasts, Soundcloud, YouTube, PodBean, and more. If you want to visitors to binge your podcast episodes, you can showcase multiple episodes and even entire seasons using the unlimited Podcast archive pages.
Key Takeaways:
Use list or grid view for an aesthetically appealing layout of your podcasts
Customize your media player so that it compliments your brand and style
Interact with followers using the newsletter subscription feature
Satchmo is ideal if you're looking for a podcasting theme where you can also share blog content in addition to your audio. Whether you're an experienced blogger or someone who simply wants to share information about your podcast in a personal and accessible way, then Satchmo's blog template pages will come in handy.
You can add icons in your headers and footers that direct your visitors to your social media accounts to promote your content and increase your follower base. There are also over 700 different Google Font options for you to choose from and customize the typography on your pages.
Key Takeaways:
Choose a podcast or blog theme for your site
Attract more followers with the social media account icons in headers and footers
Customize your typography with 700+ Google Font options
Castilo has a contact form template that you can add to a site page so your visitors can easily get in touch with you. The theme offers a podcast stats feature to help you determine the short and long-term success and popularity of each of the podcasts on your site as well as monitor who's listening to your podcasts. Your custom logo will also be placed in the header and footer of your pages to make for a professional and branded look and feel.
Pro Tip: If your theme does not come with a contact form plugin and you're looking for a simple way to add a form to your site, check out HubSpot's WordPress Contact Form builder.
Key Takeaways:
Add a contact form to capture visitor data using the available template
Capture podcast data with the statistics feature
Add your custom logo in the header and footer of your site
GeneratePress is a free and open-source theme — speed, usability, and accessibility are the features that set it apart. There is an unlimited number of custom color combination options to achieve any look you desire on your website. Performance and design aren't mutually exclusive with this theme, GeneratePress prides itself on providing podcasters with both to bring an immersive experience to their listeners.
Key Takeaways:
Get started easily with an open source theme
Customize your site pages with unlimited custom color options
Integrate this theme with the top audio plugins
You may be familiar with Divi's popular WordPress theme, but it now has a podcast landing page layout to go along with it. This modern design comes with seven landing page layouts including sections for:
Home Page
About Page
Contact Page
Podcast Episodes
This modern, sleek design looks professional and inviting right out of the box, but you can easily customize it to fit your brand.
Key Takeaways:
List multiple podcast episodes in a single block on your landing page
Display audio trailers of your most recent podcast episode right on the front page
Upload multiple shows as well as videos and music content
Keep the visitor listening to a podcast preview with a sticky audio player
Castpod includes a MailChimp integration so you can manage all of your email-related content for your fans and subscribers in an organized fashion. With Castpod you can submit your podcast to an external service such as iTunes or Google Play with the click of a button. The theme's Retina-ready design ensures all of your images are high-definition and look professional.
Key Takeaways:
Integrate MailChimp on your site to manage emails
Submit your podcast to external services like iTunes and Google Play with one click
Get a high-definition and professional look with the Retina-ready design
Sonus has a customizable audio player that you can design to include buttons that fast-forward and rewind episodes, skip episodes, share episodes, change episode speed, or skip to a specific time in an episode. The theme's pages are all formatted in a grid to keep your audio and written content organized. Sonus has responsive audio players that automatically change formats to match any screen and device.
Key Takeaways:
Include customizable audio players
Design site pages with a grid format
Add a responsive audio player that changes its format to work for any device
Audioatro has a unique, full-width audio player, called the "Audio Visualizer," that's placed on top of a full-width, background image on your page. The audio player includes a bunch of 3D bars that run across the bottom of your page to show listeners their timestamp in the podcast. These bars also rise and fall with the podcast's volume levels to add another entertaining and interactive visual element. Audioatro also has two podcast-specific templates to choose from and expert customer support in case you run into a challenge that you need help troubleshooting.
Key Takeaways:
Incorporate the unique, 3D, video-like audio player
Choose from two podcast themes
Megaphone supports multiple shows, episodes, seasons, as well as videos and music content. The theme requires no coding knowledge so you can quickly and simply design your sections in any way you want. To give your visitors the full listening experience before they download your podcast, Megaphone includes a sticky audio player that follows them as they browse the site.
Key Takeaways:
Upload multiple shows as well as videos and music content
Build faster and easier without coding
Keep the visitor listening to a podcast preview with a sticky audio player
Onair2 is a podcast and music theme with an ecommerce store feature where you can sell your merchandise to fans. Managing your online store is also straightforward due to the theme's WooCommerce integration. There is a customizable podcast page template that you can implement on your pages with an audio player that's integrated with YouTube, Mixcloud, Soundcloud, and more. Social sharing icons are customizable and give your visitors the ability to find and follow your accounts in a matter of seconds.
Key Takeaways:
Use the podcast and music theme with ecommerce store feature
Design your podcast page template with YouTube, Mixcloud, and Soundcloud integration
Increase your social media presence with social sharing icons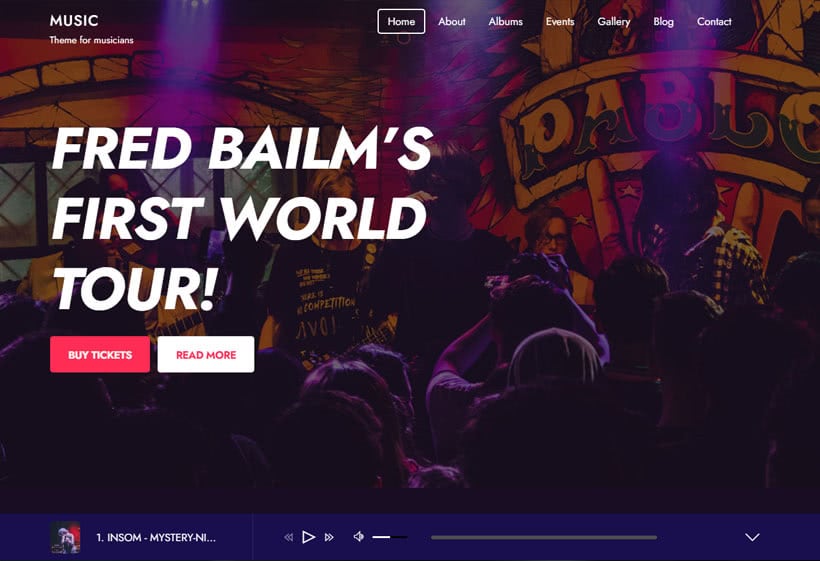 Just like the name suggests, this WordPress theme was created with artists, musicians, and podcasters in mind. With six customizable layouts to choose from, you can build an attractive WordPress site for your podcast using the Music theme's drag and drop editor. The smart layout options take this a step further, allowing you to customize your menus and headers for the most helpful site navigation.
Key Takeaways:
Non-stop music play allows your podcasts to play continuously throughout the duration of your visitor's session.
Use the album feature to display a custom playlist of podcast episodes
Embed video podcasts on your site to give visitors an audio + visual experience
If you use your podcast to promote your business, check out the WordPress podcast theme, Dixie. Dixie is compatible with WooCommerce and Elementor making it a user-friendly theme that you can use to build your own podcast website. It comes with a fully-featured audio player that visitors can use to either download an episode or listen to it while browsing your site.
Key Takeaways:
2-6 column grid display for a clean layout of multiple podcast episodes
Infinite scroll pagination to keep visitors engaged as they listen
Dedicated pages for individual podcasts to feature particular topics
From the makers of the popular WordPress theme Megabyte, Soundbyte is the podcast/audio version of the theme. It includes the same great features as Megabyte, but it incorporates the tools you'll need to display your podcasts on your website. One of the coolest features of this theme is the audio-enabled megamenu that plays a featured podcast episode right on the homepage.
Key Takeaways:
Audio-enabled megamenus for immediately podcast plays
Responsive for tablet and mobile devices
Drag & drop page builder for a no-code design experience
Back To You
WordPress podcast themes will help you share your hard work on a website that you're proud of. These themes make it easy to manage your seasons and shows, include descriptions about your hosts, stay in contact with fans, and share the latest information about live shows and events all in one location.
With a wide variety of features, layouts, and customization options, you can achieve virtually any look and design you want with podcasting themes on your WordPress website no matter your level of web development knowledge. Download and install a podcasting theme today so you can begin sharing your content and building lasting relationships with your fans.
Editor's note: This post was originally published in December 2018 and has been updated for comprehensiveness.