Most Common IT Problems For Businesses
Dynamix Solutions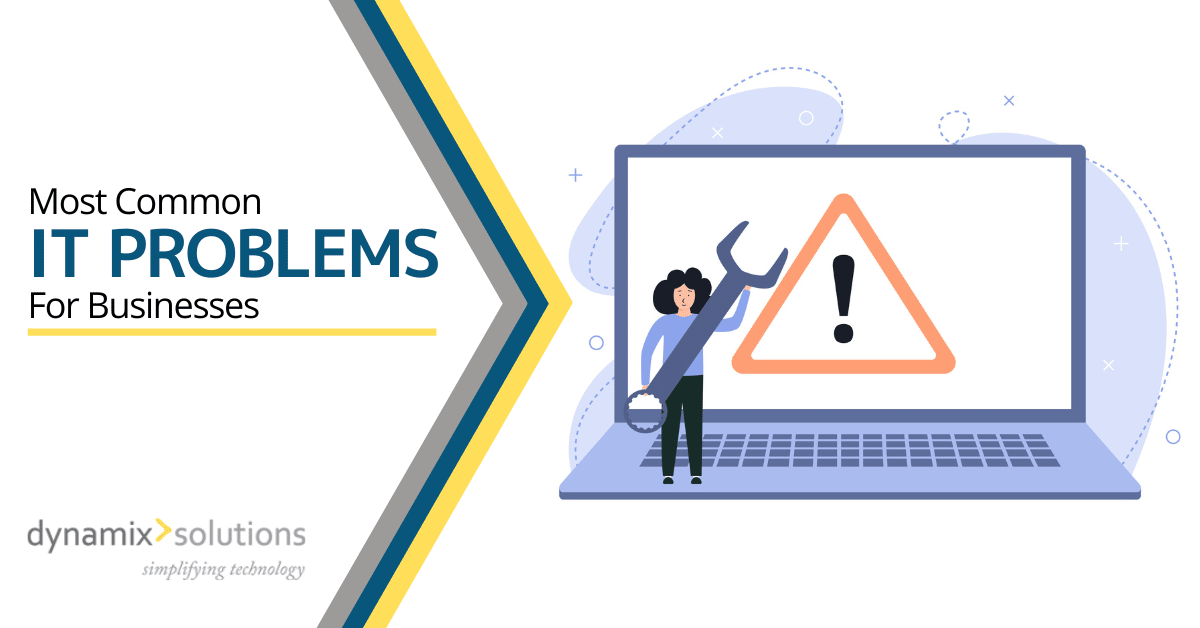 Most Common IT Problems For Businesses
There is no doubt that technology has become an integral part of today's business operations. However, it also comes with its fair share of issues, and businesses need to be aware of the most common IT problems. Nothing cripples a business like technical issues, which is why identifying and fixing them quickly is so important.
Having a good understanding of possible IT issues can help businesses take proactive steps to prevent them from occurring. Enabling good IT practices can be the difference between success and failure in the business world.
Let's take a look at the most common IT problems faced by businesses.
Poor Information Security
Businesses today are collecting data from multiple sources, ranging from customer information to sensitive financial data. With so much data, businesses need to protect their information from any potential security threats.
Poor information security can lead to data breaches and unauthorized access, which can be disastrous for the company's reputation and financial health.
To prevent such security issues, businesses should implement good cybersecurity practices which may include:
Good password management policies
Firewall and antivirus software
Data encryption
Ensuring your business is well-equipped with the right security measures to protect your data can save you time and money in the long run.
Outdated Equipment And Software
As technology advances, software and hardware become outdated and businesses must upgrade to keep up with the latest technology. Outdated equipment and software can cause a range of issues that could severely impact daily operations.
To prevent this issue, businesses should:
Plan for upgrades
Evaluate current systems
Keep up with the latest technology
It's important to keep up with the latest technology to keep your business competitive.
New Technology Integration
Integrating new technology can be a daunting task for businesses, especially if they don't have the right resources. With so many advances in technology, businesses are often faced with integrating new hardware and software into their systems.
This can be a time-consuming process and, if not done correctly, can cause a range of problems such as data loss or downtime. Time is a precious commodity in business and a lack of resources and expertise can leave businesses unable to effectively integrate new technology
To avoid any issues, businesses should:
Conduct a thorough review of current systems
Test the new technology to avoid compatibility issues
Train staff on the new technology solutions
Successful integration of new technology can help businesses stay competitive in the market.
Issues With Backup
Having an effective backup system is essential for any business. Without regular backups, businesses are vulnerable to data loss and corruption. Backup issues can also lead to significant downtime and can be costly to repair.
Even minor data loss can cause major problems for businesses if they are not prepared. Due to this, regular backups of data are essential for any business.
To ensure backups are working properly, businesses should:
Test backups and backup systems regularly
Understand Recovery Point Objective (RPO)
Store backup data at multiple locations
Securing your data with backups is one of the most important IT practices businesses should implement.
Lack Of Qualified IT staff
Having a qualified IT staff is essential for businesses that rely heavily on technology. Without the right personnel, businesses may be unable to implement the best IT practices and may be more vulnerable to cyberattacks.
It's important to have the right IT personnel who can effectively handle the day-to-day tasks and also provide strategic IT guidance. IT personnel should be knowledgeable about the current technology trends and should be able to come up with solutions quickly when problems arise
To avoid this issue, businesses should:
Enforce strict hiring of qualified staff
Train existing staff recurrently
Outsource IT services to qualified suppliers
Having qualified IT staff and providing adequate training to existing staff can help businesses ensure their IT systems are running smoothly.
Having the right personnel can make all the difference when it comes to IT services.
Many Employees Accessing the Same Data
More and more businesses are sharing data across their organization. With multiple employees accessing the same data, there is a risk that sensitive information may be accessed by unauthorized personnel or may be corrupted or lost.
Many organizations today are using access control systems to help manage who has access to the data. It's never been more important to have good access control systems in place.
To prevent these data access issues, businesses should:
Implement secure access control
Monitor access
Practice Least Privilege Access (LPA)
Having the right access control measures in place is essential for protecting sensitive data.
Lacking an IT plan
Without an IT plan in place, businesses may not be able to effectively manage their IT systems. An IT plan can help businesses identify potential problems and take proactive steps to avoid any issues.
Regardless of the size of the business, having an IT plan can help businesses achieve their IT goals. Planning can also help businesses save money, as it can help plan and budget for any future expenses.
To create an effective IT plan, businesses should:
Determine the short-term and long-term IT goals
Create an action plan for each scenario
Evaluate and review the new IT plan regularly and adjust as required
An effective IT plan can help businesses stay ahead of any IT issues.
IT, An Essential Part Of Business Operations
Technology has become an essential part of business operations, but it also comes with its own set of issues. By understanding these issues and implementing the right practices, businesses can use technology to their advantage.
Preventing IT issues is key to the success of any business.
We understand the importance of preventing IT issues. We specialize in helping businesses identify, prevent, and resolve IT problems, so they can focus on what they do best.
Let us help you protect your business from any potential IT issues!
The experts at Dynamix Solutions can assist you. Contact us today to learn more about our services at https://dynamixsolutions.com/.
This post Most Common IT Problems For Businesses first appeared on Dynamix Solutions and was written by James