Why Cybersecurity is Important in Healthcare Sector?
Dynamix Solutions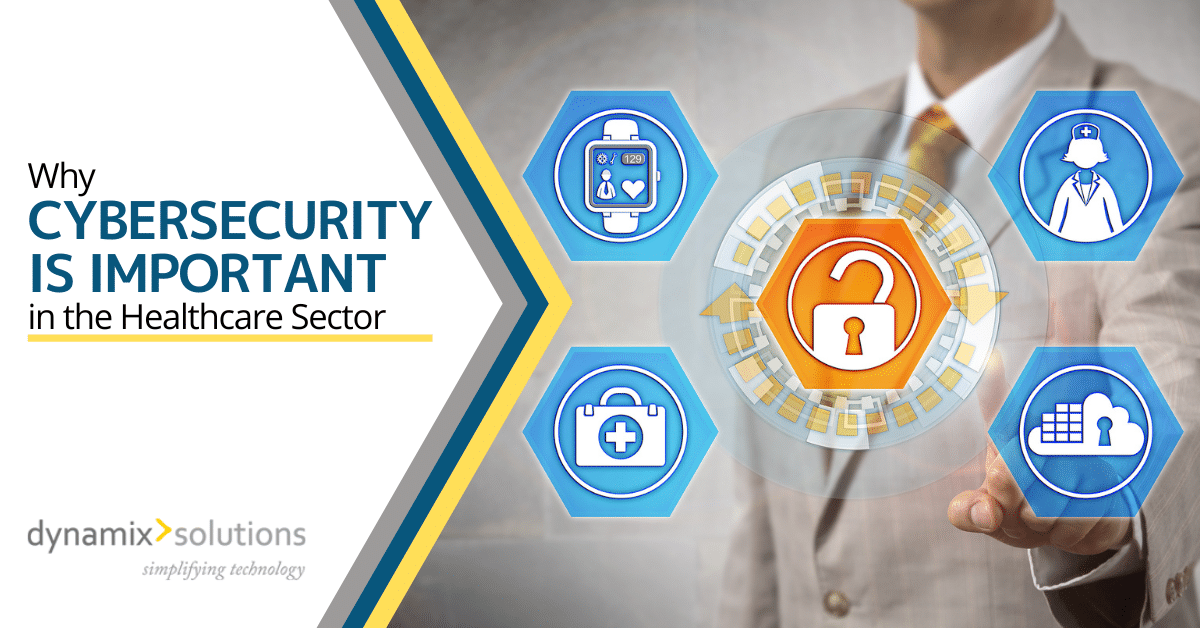 Why Cybersecurity is Important in Healthcare Sector?
The healthcare sector is one of the most essential sectors in any country's economy, yet it is also one of the most disregarded and vulnerable in terms of a robust cybersecurity posture. It is constantly confronted with increasing cyber threats and risks that might compromise its data and jeopardize patient safety. 
This is because they have access to a wealth of information with significant monetary and intelligence, such as patients' health information, patients' financial information, credit card information, or bank account details that are of value to cyber criminals and dangerous actors. 
According to Statista, between October 2021 and September 2022, the health sector was subjected to a variety of cyber-attacks, most of which were network and application anomalies of about 63%. Also, in another research, the average cost of a data breach in the healthcare industry increased from 9.23 million dollars in March 2021 to over 10 million dollars in March 2022 and is likely to increase in 2023.
With the healthcare sector previously reliant on analog technology and manual care, and now entering an era of digitalization, optimization, and cyber-efficient processes, these statistics show that a comprehensive cybersecurity strategy is necessary for healthcare organizations to continue providing maximum healthcare without fear of data breaches. This article will highlight a few reasons why cybersecurity is important in the healthcare sector.
Patient Privacy and Data Protection
Patient data privacy in healthcare requires handling sensitive patient data correctly and protecting it from various cybersecurity threats. It covers rules and technology used to safeguard sensitive health information for medical clients and patients.
Data privacy also aids in the management, storage, and exchange of data with third-party providers who are subject to acceptable compliance. Therefore, with cybersecurity in place, data privacy, and data security work together to create data protection in the healthcare sector. It also helps in keeping patients' data and sensitive information secure which can benefit the healthcare sector as a whole. 
Safeguarding Medical Devices and Critical Systems
The patient's health is a primary focus in healthcare, and this care is increasingly reliant on medical devices and systems. Every day, a wide number of sensitive data and information are constantly stored on medical devices, posing a significant danger to both the patient and the healthcare organization. This is because many of these devices and systems lack built-in or external security measures, making them vulnerable to cyber-attacks. 
As a result, with the features connected to medical devices and due to the growing use of technology in healthcare, it is vital to ensure that the systems are secure and protected from potential cyber threats. Therefore, it is safe to say that cybersecurity is essential in safeguarding medical devices and critical systems.
The benefits gotten from implementing a cybersecurity posture in all medical devices and critical systems include 
The safeguarding of private medical data, delicate financial information, and private patient information. 
Ensuring that medical products are in good operating condition and stopping unauthorized access to them.
Protect healthcare institutions against malware and ransomware attacks that disrupt patient care, cause system outages, and expose sensitive data. 
Also, any healthcare organization that uses the Internet of medical things, or IoMT, to aid in healthcare operations must have a cybersecurity protection plan in place to help secure their sensitive data and reduce security risks.
Ensuring Continuity of Care and Operational Efficiency
The process of delivering continuous, high-quality, and comprehensive health care to patients is referred to as continuity of care. It entails a group of healthcare experts actively involved and continuously collaborating to ensure that a patient receives the best medical treatment.
Continuity of care involves 
Patient safety
Long-term quality of care 
Quality of treatment 
The adoption of preventative services
Minimizing hospitalizations and emergency department visits
Patient satisfaction, particularly among individuals with chronic diseases 
However, to improve effectiveness and continuity, healthcare services and facilities are managed and handled efficiently using electronic systems or mobile devices. 
The features of these systems or devices include monitoring, regulating, and managing notifications of operational status. The devices give vital knowledge to the healthcare facility operator on building performance, essential infrastructure status, and the potential effect on clinical service delivery.
Therefore, while these devices have no detrimental consequences, if not safeguarded, they can be vulnerable to cyber-attacks. As a result, cybersecurity procedures must be in place to avoid security breaches and to guarantee that the devices increase the organization's performance in terms of continuity and patient happiness. 
Compliance with Regulatory Requirements and Standards
In the healthcare industry, cybersecurity is one of the most essential parts of compliance with regulatory requirements and standards according to the Health Insurance Portability and Accountability Act.
This is because cybersecurity compliance benefits the hospital in the following ways
Protects all private medical data, sensitive financial information, and confidential patient information
Ensuring that all medical products and devices are working properly
Preventing illegal access to various medical information
Safeguard healthcare facilities from ransomware and malware assaults
Contributes to the maintenance of dependability and precision of medical equipment and systems
Although many healthcare organizations view healthcare cybersecurity compliance with regulatory requirements and standards as a barrier to success, cybersecurity compliance is the guarantee that all systems and devices are safe, and shielded from patient care disruptions, system failures, and data breaches and that your healthcare center gains a competitive edge.
Preserving Trust and Confidence in Healthcare Providers
In the healthcare industry, trust is a fundamental component of maintaining a good public image. In a situation where your practice is exposed to cyber attacks, it may suffer significant reputational harm. Regardless of the subsequent precautions you take, patients may link you with poor data handling and seek out alternative doctors.
By investing in cybersecurity, you can 
Avoid breaches and data loss
Solidify trust
Retain and attract patients
Boost confidence in healthcare providers 
Help maintain the doctor-patient relationship by keeping patients' confidential data and information secure
With a robust cybersecurity posture in place, patients are more likely to return to the medical organization for their healthcare requirements if they perceive that the institution effectively protects their data.
It should be noted that this is significant not only for the bottom line of a hospital or medical facility. It is also essential for patient safety.
Safeguarding Intellectual Property and Research Data
In the digital era, the intellectual property of hospitals, such as patient details, technological prototypes, and trade secrets, are largely stored in their digital network. Exposing these files increases the likelihood of losing a competitive advantage.
Without a doubt, the sensitivity of this information in the intellectual property makes it one of the most valuable assets of the healthcare industry, yet it is also the most vulnerable to attack and compromise. 
This is why cybercriminals are increasingly targeting the healthcare sector in search of valuable data, and once exposed or stolen can lead to chains of disruptions, reputational damage, loss of trust, and financial loss.
As a result, implementing strong cybersecurity measures and legal safeguards ensures that all healthcare intellectual property is safe. Most importantly, having robust cybersecurity strategies in place will protect intellectual property rights and research data against cybercriminal activities. It will also protect against malicious actors and human mistakes, which are still among the most common causes of data breaches today.
Take steps to protect your healthcare business with Dynamix Solutions
The importance of cybersecurity in all industries, particularly healthcare, cannot be overstated, from maintaining the security of sensitive healthcare information to insurance premiums and patient care. As a result, strong cybersecurity may enhance your confidence and acquire the trust of your patients.
At Dynamix Solutions, we have a dedicated staff of seasoned security professionals with diverse cybersecurity disciplines.
 Contact us today for safety requirements. 
This post Why Cybersecurity is Important in Healthcare Sector? first appeared on Dynamix Solutions and was written by James Moutsos