Common Types Of IT Support To Benefit Your Business
Dynamix Solutions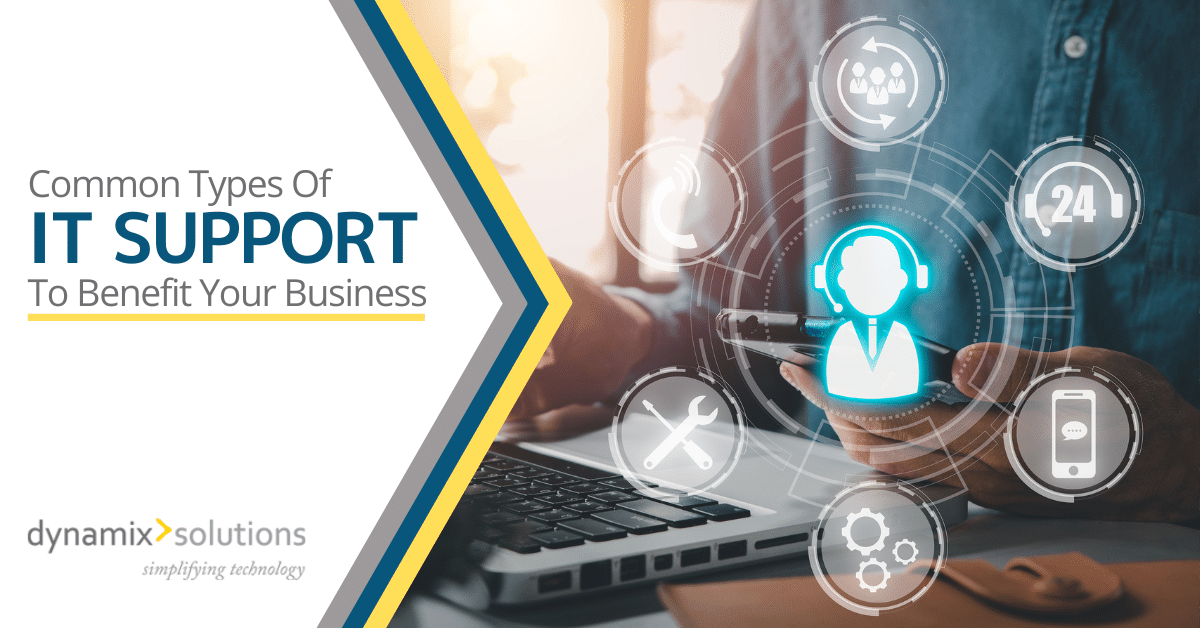 Common Types Of IT Support To Benefit Your Business
IT support services play a vital role in the daily operations of companies looking to improve their efficiency and productivity. 
With technology's recent advancement and increasing importance in the business world, having reliable IT support will make a big difference. IT Support services can help you with everything from hardware support to cybersecurity, backup and disaster recovery, network monitoring, alerting, etc.
With many companies reporting increased efficiency after implementing IT support services, Garner predicted IT services growth of 11.2% in 2021. Still, with the various types of IT support and their different features and benefits for business, it can be challenging to know which support is right for your business. 
This article will explore the common IT support you can deploy to take your business to the next level.
Managed IT Services
Managed IT services is an all-inclusive IT Support solution for businesses that offers various services such as 
Network Monitoring And Management
Cybersecurity
Data Back Up And Disaster Recovery
Software Updates And Patches 
This IT support will help your business minimize downtime and improve overall efficiency.
Hardware Support
This aspect of IT Support repairs, maintains, and replaces hardware components like computers, printers, servers, and other devices. 
Incorporating this IT support will help you reduce the costs associated with hardware repairs and replacements.
Cloud Services
The cloud is an encompassing platform that is capable of supporting several virtual services, such as operating systems and programs
The cloud services will let you store and access data and information remotely, reducing your IT infrastructure costs and improving scalability.
Voice Over Internet Protocol (VoIP)
VoIP is a broadband and internet connection that allows for versatile communication. This Technology lets you make phone costs over the internet instead of using traditional telephone lines. 
This Support service will help your business reduce phone bills and improve communication.
Backup and Disaster Recovery
IT support services offer data backup with external data centers or the cloud. The service will help you protect data and sensitive information in the case of a system error or attack.
Network Security
This protects your network infrastructure from Malware, unauthorized access, misuse, etc. It involves creating a secure infrastructure for devices, users, and applications. These involve:
Firewalls
Intrusion Prevention
Access Control
Antivirus And Anti-Malware Software
Application Security
Data Loss Prevention
These services will help you prevent data breaches and other security.
Office 365
Office 365 is a cloud-based productivity suite that includes applications such as 
Word
Excel
Powerpoint
Outlook
The suite gives you the tools that will enable you to create content, communicate effectively, and collaborate on any device anywhere
Help desk support 
This IT support will give your business technical support in case you are experiencing technical issues with your hardware or software. 
Some of the  features of help desk support include 
Remote Access To Your System To Diagnose And Resolve Issues
Ticket Tracking Of Software To Keep Track Of User Issues.
Maintainance Of Knowledge Base Of Common Issues And Their Solutions To Speed Up Problem Resolution
Overall, the Help desk support will improve customer satisfaction, increase productivity, and reduce downtimes.
Network Monitoring And Alerting 
This IT support involves monitoring networks to detect issues within the system. This will help your business identify and resolve issues before they become major problems 
Account Management
This will manage users' accounts and access permissions. It will help ensure that only authorized users can access sensitive data within your network. This will reduce data breaches that may lead to cyberattacks.
IT Reporting 
This process collects and analyzes data to create reports on IT operations, performance, and risk management. The features include 
Customizable reports that provide a comprehensive view of IT operations, performance, and security
Detailed analysis of IT assets, usage, and performance
Identification of potential security risks and vulnerabilities
Compliance reporting to meet regulatory requirements
Regular monitoring and reporting on IT systems and applications to detect and address issues early on.
IT reporting will provide insight to help your business make data-driven decisions. It will help you optimize your IT systems and improve overall business performance.
IT Automation
This IT support uses Technology to automate routine tasks like software updates, backups, and network monitoring. It will help streamline your IT operations, reduce manual workloads, and improve productivity
Email
Email is essential for effective business communication; hence, reliable email support will help you communicate properly with your clients, customers, and partners.
Email support includes email setup, migration, security, archiving, backup, and recovery
Software As A Service (SaaS)
SaaS implies delivering software applications over the internet instead of through traditional installations. This lowers expenses, gives you automatic software updates and maintenance, and gives you access to new features and functionality.
Troubleshooting
Troubleshooting identifies and resolves problems within an IT system, application, and hardware. It gives fast diagnosis and resolution; It is a 24/7 available support that, with all its features, helps you minimize the impact of IT issues within your operations and ensure that your IT system works optimally.
On-site And Remote 
The on-site and remote IT support services provide the assistance needed for on-site and remote operations. It is ideal support if you want quick and reliable  IT support to keep your operations running smoothly
Antivirus Protection
Antivirus software protects against cyberattacks on business networks, data, and computer systems. Antivirus Protection will:
Perform a scheduled scan to check for Malware and viruses,
Provide protections so that viruses do not affect your data 
Provide automatic updates on new virus definitions
This will improve your network security and increase confidence for your employees who know that their devices are protected.
Technology Training
The rapid evolution of Technology has made it challenging for many employees to keep up. As such, Technology training IT support will help employees become proficient in using new software, hardware, and other technological tools. It involves:
Customized Training
Training On Data Management And Cybersecurity
On-Site And Remote Training.
IT Consulting
This support service will provide strategic guidance and recommendation that will help improve your technology infrastructure.
It features:
Comprehensive assessment
Recommendations for improving the company's technology systems and processes.
Assistance with new technology system implementations
Ongoing monitoring and support to ensure continued success.
Firewall services
This IT support will help you set up and manage firewalls that protect your business against unauthorized access to networks and data.
Communication Management
This IT support service will create a customized communication plan to help your business improve its communications process and tool. It provides you with services such as 
Email Management
Instant Messaging
Video conferencing etc.
Conclusion
Having exemplary IT support service is essential to the success of your business in today's digital age. Partner with Dynamix Solutions for reliable IT support services ranging from Managed IT services to Communication management.
Contact us today to learn more about how we can help you benefit from the power of IT support services.
This post Common Types Of IT Support To Benefit Your Business first appeared on Dynamix Solutions and was written by James