Dynamix Solutions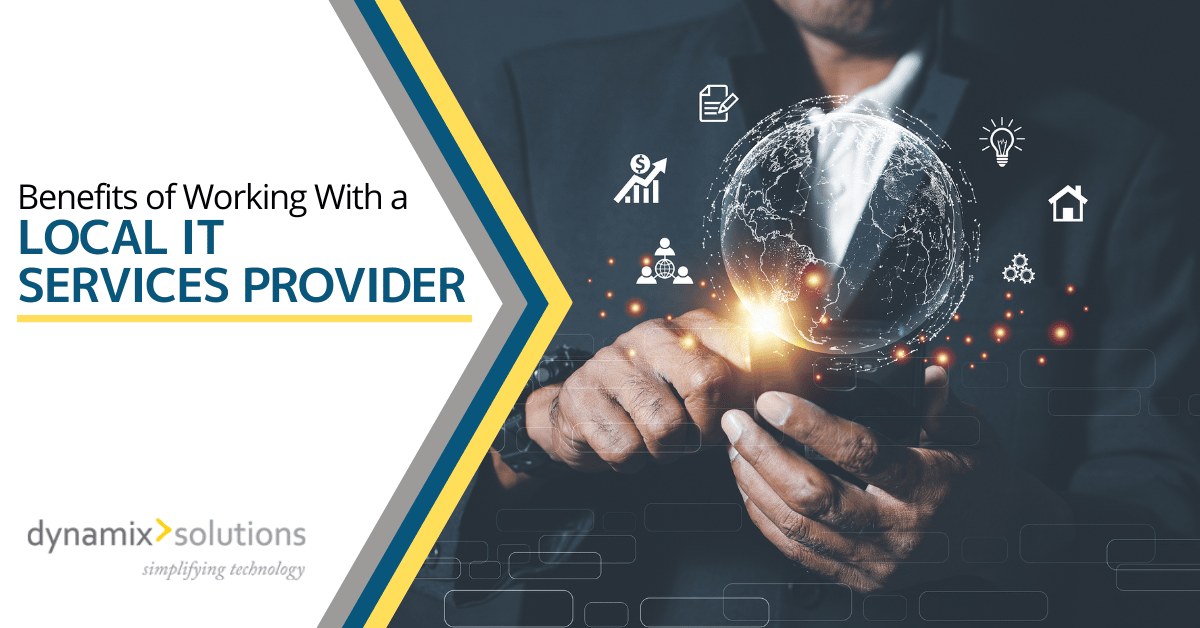 Benefits of Working With a Local IT Services Provider
The current trend in the business world has seen more startups and organizations become more technology dependent — for increased efficiency, protection from cyber attacks, and reduced labor costs. This has increased the need for IT services providers by most Canadian small and medium-sized businesses. 
IT solutions are vital for continuously increasing an organization's efficiency and productivity. It helps businesses perform better amidst competitors and makes reaching targets easier. However, businesses usually choose between in-house IT services providers, virtual/remote providers, and local managed IT services providers. 
For small-medium scale businesses, the in-house provider option may be out of reach due to the expenses. They're usually left with remote or local IT services providers. In this article, we highlight. the reasons why the latter is the best option, and the benefits it brings. 
Who are IT Services Providers/Professionals?
IT services providers, or IT Professionals provide managed IT services, cyber security services, and other IT solutions-related services that can help businesses increase their productivity and efficiency while maintaining optimum computer system/database security. Usually, the duty of an IT services provider may include installation & maintenance of software and hardware, building, testing, and repairing of IT infrastructures, IT consulting services, managed IT services in Toronto, etc. 
5 Reasons Local IT Services Provider is Best For Your Business
Local IT services providers are IT solutions companies within the same location as the patronizing business. This implies that brands that provide managed IT services Toronto or managed IT services Calgary are 'local providers' to all Calgary or Toronto-based small and medium size businesses. 
However, if a U.S based company is using a Toronto managed IT services provider or a provider providing managed IT services in Calgary, such arrangement is described as remote or virtual. While they are many factors that could make a company opt for this, we believe using a local IT services provider is advantageous in the following ways: 
1. On-Site Support
This is one of the edges of working with a local IT services provider over virtual or remote support. Local IT solutions providers can perform all the tasks their virtual counterparts perform, but virtual service providers can't function effectively in all spheres like the local providers. Small and medium-sized businesses can enjoy the presence of IT professionals at their workplace when incidents warranting it occurs. 
A local IT provider in Toronto can send technology experts to your Toronto office to diagnose the faults in your IT infrastructures and rectify them seamlessly within minutes. Virtual support might be inadequate in this scenario and may require that you or an employee have a bit of IT knowledge before carrying out the professional instructions given. 
Patronizing a managed IT services provider in your locality saves you this stress, helps you get issues resolved quicker, and allows you to focus more on running your business. It also brings some level of assurance and confidence.
2. Contributing to Your Local Economy Also Supports Your Own Business!
Partnering with or patronizing local businesses is one way of keeping the economy around your business environment viable. LOCO BC reports in 2019 on the Economic impacts of local businesses indicated that local businesses re-circulate 4.6x more revenue than multinational companies. This indicates that the more local businesses patronize each other, the more benefits it is to the local economy. 
Thus, small and medium-sized businesses with IT services need can improve the economy as well as their business by hiring the services of local IT providers. Calgary-based businesses will improve the economic viability of Calgary by partnering with a managed IT services provider in Calgary, so also will a Toronto-based business benefit from working with cyber security or managed IT services provider in Toronto. This economic law remains true in all spheres. 
3. Personalized Service 
Partnering with a local IT services provider offers a personalized touch and a degree of customer service that can't be matched remotely. Most virtual IT service providers offer businesses generic solutions (one-size-fits-all), which may not adequately address your IT needs.
However, local providers diagnose your business to identify its technological needs and provide services that specifically fit them. This ensures that all your IT needs are properly addressed, and possible challenges like outdated technology or inappropriate hardware setup can be easily identified and rectified. 
Virtual services usually seem cheaper initially, but in the long run, businesses realize that in-person service(working with local providers) is more cost-effective.
4. Unique Local Knowledge
IT service providers in your business locality hold the advantage of having in-depth knowledge about the challenges, economic situation, business procedures, and other essential factors concerning the community over providers outside the locality (province, state, or country). 
This unique knowledge makes it easier for them to provide satisfactory services and carry out every service with the right approach. Local IT services providers are also more advantageous when companies are trying to recover from disasters that affect their IT infrastructures. 
5. On-Site Training
Virtual learning/training is fast growing, especially after the Covid-19 pandemic that rocked the world and made schools and companies start looking for online solutions. However, the effectiveness of virtual lessons and learning aids is still not on par with that of in-person hands-on training. This is another place where working with local IT providers is advantageous. 
Businesses sometimes need to organize training to ensure optimum use and a general increase in the adoption level of new technologies. In such a scenario, virtual providers can only provide needed materials (e.g., manual, instructional videos, etc.) which may be of little help. 
In contrast, local IT providers are usually present to carry out on-site training sessions, which are usually more effective. They provide experts that can guide employees through the whole training, whether in groups or individually. Training employees on how to use new IT solutions is vital to ensure optimum use that can help achieve desired results. 
We Can Help You With All of Your IT Needs
One of the issues most businesses face is getting a reputable local managed IT service provider, which is why they opt for virtual ones outside the business locality. However, businesses in Toronto or Calgary don't have to face this issue with Dynamic Solutions. 
Dynamix Solutions is a Toronto managed IT services provider that provides cyber security and managed IT services in Calgary. You can always contact the local IT services provider to get dynamic solutions for your IT problems.
This post Benefits of Working With a Local IT Services Provider first appeared on Dynamix Solutions and was written by James